Since the final game of the Seahawks was in New Jersey we did no monitoring of it. Despite that the Seahawks won the Super Bowl!
For the Blog entries as things progressed over a couple of exciting weeks see:
Earth shaking Seahawks experiment. Jan 8, 2014
Seismic Game Analysis. Jan 11, 2014
The football game experiment continues. Jan 14, 2014
The final football game analysis. Jan 19, 2014
We ran experiments with realtime seismic displays and near realtime Hawk-O-Grams
The Pacific Northwest Seismic Network (PNSN), in cooperation with the Seattle Seahawks and CenturyLink Field management, will seismically monitor Sundays NFC Championship game between the Seattle Seahawks and the San Francisco 49ers. Last week, the PNSN installed two portable seismometers inside CenturyLink for the Divisional game against the New Orleans Saints. An additional portable instrument was added this week to better understand the vibrations recorded during Saints game.
Seismic recordings, or Hawk O Grams, will display the the output of the three temporary stations, as well as KDK, a permanent station that recorded the original Beast Quake. The Hawk O Grams will be in near realtime with a 15-45 second latency. PNSN scientists will quickly annotate big plays on Hawk O Grams and send out tweets with early analysis. Last week for the Saints, our Fan-O-Meter and Fan-O-Meter2 were overloaded by too many hits, so we have improved our plots several ways for the 49er game.
This is an experiment to investigate how an excited crowd energizes the stadium structure to shake, and how that shaking propagates into the surrounding ground. Other motivations are listed below. As a public service, we are providing public views of the motions we are recording in near real time.
WARNING!!!! This is an experiment -- from deployment of the sensors to transmission of the data to processing and presentation of the data products. The quality or availability of any of these data or even access to this web site is experimental and subject to the whims of untested real-time science! Before contacting PNSN staff with comments, questions or complaints please read the detailed caveat about these data.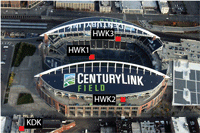 Where are the seismographs? HWK1 is at field level under the east stands, HWK2 is on the second level of the west stands, HWK3 is in upperdeck on east side, KDK is in a building just to the west of the stadium.
The "Beast Quake" of Jan. 8, 2011 indicated to us that Seattle Seahawk fans can really rock the world. We want to be better prepared this time.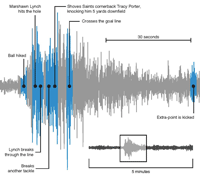 PNSN staff needs practice and training in rapidly setting up telemetered seismic stations. Siting, installing, acquiring and analyzing data as quickly as possible following large earthquakes or seismic swarms at volcanoes are goals of PNSN operations. Practice improves performance.
We want to improve our understanding of unusual ground vibrations in an urban setting. Along with the portable instruments in the stadium there are permanent seismographs in nearby areas for recording large earthquakes. We want to understand the variability in ground motions at different sites under background conditions (at night) and during other seismic inputs (vibrations caused by large machines such as trains and, of course, by crowds of people as well as earthquakes).
We want to improve our understanding of the vibrational response of a large structure. A stadium will vibrate with characteristic modes based on its design. Engineers can learn about different design elements by studying the recorded vibrations under different input loads.
We are interested in how the PNSN web site is used by the general public. This experiment should attract a different user group than those normally interested in seismic events. We hope to learn something about how to make the website more generally useful and interesting.
We need to test the response of the PNSN website to a possible large number of requests. We anticipate that after a future large earthquake there will be lots of interest in our website, but until such an event we don't have a way to test how well it will technically perform. With enough publicity this "Seahawk fan" experiment may provide a good test.
Besides these "experiment" motivations we also think of this as a public service both for the interest of Seahawk fans and with the hope that more people will have their interest piqued to learn more about earthquakes, volcanoes, and their hazards, all topics that the PNSN addresses as part of our public outreach activities.
Some examples of what we think different signals mean:
Example of a train going by on the tracks just east of the stadium. These are easily seen on HWK1 which is under the east stands. This train lasts about 2 1/2 minutes with a strong signal, probably a freight train. The train shows up well on HWK1, but doesn't show at all on the other two stations because they are significantly farther away.
---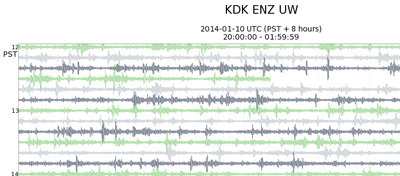 Station KDK is located very near the US-99 ramp leading up to the Alaksa Way Viaduct and so any vehicle starting up the ramp will shake the ground. Trucks, in particular are probably producing the larger signals. Thus Seahawk fans need to be bigger, stronger and louder than the nearby roadway to show above the traffic signals.
We have done some analysis of the recordings for the Jan 11, 2014 game against the Saints in our blog.