Seattle Seahawks 2013 Playoffs
Seattle Seahawks 2013 Playoffs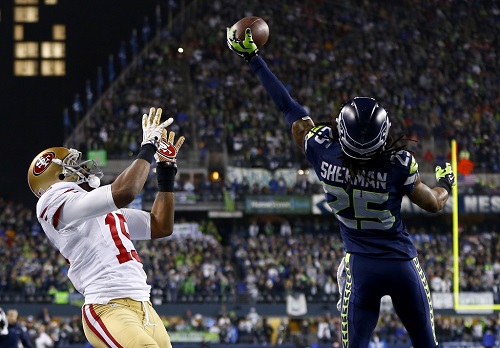 The Pacific Northwest Seismic Network (PNSN), in cooperation with the Seattle Seahawks and CenturyLink Field management, seismically monitored 2013 NFC playoff games at CenturyLink Field. The PNSN installed two portable seismometers inside CenturyLink for the Divisional game against the New Orleans Saints. The third portable instrument was added for the NFC Championship game against San Francisco 49ers to better understand the vibrations recorded during the Saints-Seahawks game. Since the final game of the Seattle Seahawks was in New Jersey, we did no monitoring of it. Despite that the Seahawks won the Super Bowl XLVIII!
For the Divisional game, our Fan-O-Meter (near realtime seismograms) were overloaded by too many hits, so we improved our plots several ways for the NFC Championship game with a and Fan-O-Meter2. Seismic recordings, or Hawk-O-Grams, displayed the the output of the three temporary stations, as well as KDK, a permanent station that recorded the original Beast Quake. The Hawk-O-Grams were in near realtime with a 15-45 second latency. PNSN scientists annotated big plays on Hawk-O-Grams and sent out tweets with early analysis during the game. See archived seismograms of Saints-Seahawks and SF49ers-Seahawks games.
This was an experiment--from deployment of the sensors to transmission of the data to processing and presentation of the data products--to investigate how an excited crowd energizes the stadium structure to shake, and how that shaking propagates into the surrounding ground. The quality or availability of any of these data or even access to this web site is experimental and subject to the whims of untested real-time science! Please read the detailed caveat about these data.
For the blog entries as things progressed over a couple of exciting weeks see:
Jan 19, 2014 - The final football game analysis
Jan 14, 2014 - The football game experiment continues
Jan 11, 2014 - Seismic Game Analysis
Jan 8, 2014 - Earth shaking Seahawks experiment