Mount Adams is a potentially active volcano located 50 km east of Mount St. Helens, and is the second highest peak in Washington State. Although it has not had a major eruption in 1,400 years, it is not considered extinct. Thermal anomalies and gas emissions at the summit indicate that Mount Adams is still active.
Except for Mount Shasta, Mount Adams is the largest volcano in the Cascades by volume. Nearly all of its eruptions have consisted of lava flows with little to no tephra. Parts of the main cone consist of rock weakened by hydrothermal alteration. There is potential for large landslides of this altered rock to generate mud flows and lahars that flow far down valleys.
Mount Adams Seismicity
Below you will find an epicenter map, a time-depth plot and a count of earthquakes plot for the immediate Mount Adams area. These plots are for the time period since 1972. However, it was not until the 1980s when there were seismograph stations near enough to locate earthquakes at Mount Adams. The only station located on Mount Adams, ASR was installed in the summer of 1982. Compared to many of the other Cascade volcanoes Adams has one of the lowest rates of seismicity. There is some significant seismicity to the northwest off this map but it is not considered related to Mount Adams in any way.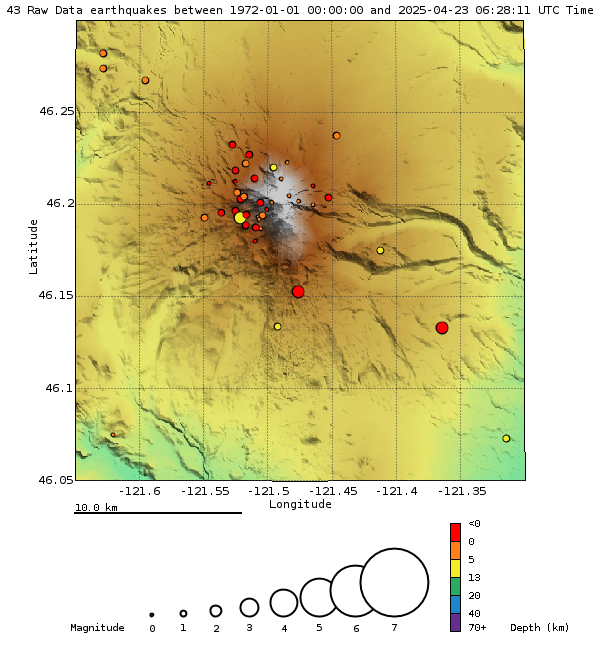 Below is a time-depth plot of events located directly under Mount Adams since 1972. This plot is updated weekly... unless, of course unusual activity takes place that suggests a different time sequence is needed to better interpret that activity.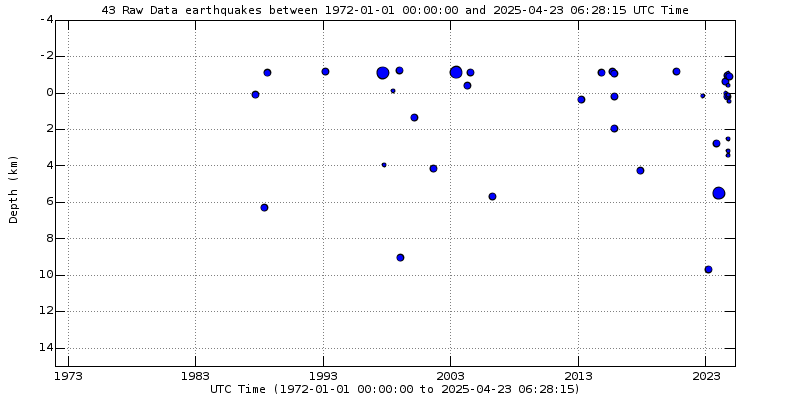 Here is a seismicity plot that shows the number of located earthquakes per week (black spikes) and the cumulative number of earthquakes over time (red).

Debris Avalanche at Mount Adams, Washington
Seismic recordings of the 10/20/97
At 12:31 AM PDT on October 20, a large mass of rock fell from the Castle, a prominent rock formation east of the summit of Mount Adams. This avalanche was recorded on many seismograph stations of the Pacific Northwest Seismic Network in southern Washington and northern Oregon, and some examples of the seismic signal from five broad-band stations are shown below. The table below the signals indicates where each of the stations are located, and their distance from the avalanche source area on Mount Adams.
| | | |
| --- | --- | --- |
| Station | Location | Distance, km |
| COR | Corvallis, Oregon | 230 |
| GNW | Green Mtn., Washington | 183 |
| LON | Longmire, Washington | 66 |
| RAI | Trojan Power Plant, Oregon | 110 |
| RWW | Satsop, Washington | 180 |
The total time window shown is 195 seconds; the signals shown have durations between 80 and 110 seconds. The total time duration of motion for this avalanche is estimated to be about 6 minutes, based on recordings from the closest seismograph station (not shown). The elongated, spindle-like shape of the signals is typical of large avalanches; this characteristic shape helps seismologists to differentiate them from earthquakes, which typically display one or more sharp peaks in amplitude, after which the signal decreases smoothly back to the level of background "noise" typically seen at each station.
The debris avalanche on October 20 followed an earlier sequence of debris avalanches from the Avalanche Glacier on the southwest side of Mount Adams. These avalanches occurred between August 29 and 31, and consisted mostly of ice from the Avalanche Glacier.
For more images and detailed information on the Mount Adams avalanches, see the web pages produced by the Cascades Volcano Observatory.
For more information on the seismic signals generated by large avalanches, see Seismic detection and location of debris avalanches.